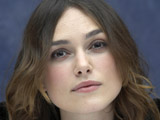 Keira Knightley has revealed that paparazzi would fall out of trees trying to photograph her on the set of her new film.
The 23-year-old said that working on a low-budget movie made it easier for snappers to get on to the Welsh set for
The Edge Of Love
.
"We did have paparazzi falling out of trees," she said. "It was actually really difficult. If you're working on a big film, you can deal with the amount of media attention.
"When you're on a tiny, little film it is really difficult. There were occasions where there were more photographers than cast and crew members. It was just extraordinary."
However, Knightley confessed that she is used to being chased by the press.
She said: "I grit my teeth when I say this, but it comes with the territory. It is part of the job. Just grin and smile through it."