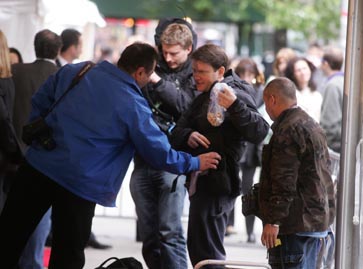 Lawrence has his nuts checked by security prior to the Longest Yard premiere.
(I believe they were pistachio, for those that care.)

The Longest Yard- NY Screening
Clearview Chelsea Theaters
May 24, 2005

I think the

BOMB SNIFFING DOGS

at

THE LONGEST YARD

was a little overkill... wouldn't you say? They had all the photographers place their bags on the ground and step back as a bomb dog sniffed away. All this for Burt Reynolds???
Like that transparent mylar the tent was constructed of would have stopped a missile attack.

Adam Sandler wasn't too cooperative, Chris Rock with a wide eyed stare in all the photos, Chris and Burt looking every which way when posing together... another example of some fine PR work.