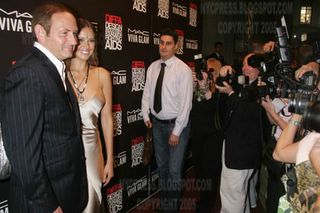 For the love of God, can we get a fashion?!!!
Photo by Kingfreak
Viva Glam Casino
Gotham Hall
PR- Nadine Johnson
June 15, 2005
Press call: 6:45pm

Photographers set up on the side-walk outside Gotham, under three tents that covered about half the sidewalk, with a backdrop and reddish carpet (it was pretty dirty and unkept).

PR seemed to have a nonsensical way of placing photogs. If you called to RSVP, you were placed in a spot, or not. Huh? If you didn't RSVP, some were placed in spots, some had to wait for 2nd row. And then there were just some they didn't let in at all (and they shot from 2 inches behind us "outside" the velvet ropes). Huh?!? Very strange....and there were only about 20 of us.

Maggie Rizer, Ines Rivero in good fashion. Very co-opeative. But the buzz was Petra Nemcova was going to show....she wasn't listed to arrive. And she did show.... in amazing fashion! She arrives on the carpet and...BAM! Rob from Dan Klores jumps in the way "NO SOLOS!". He then glues the president of MAC on her arm the entire carpet?!? Not once did a clear posed solo happen. Is that good PR? That MAC logo was all over the backround, the event was going to get coverage, so what's the deal? He even went out of his way to even "block" shooters from getting a clean solo.