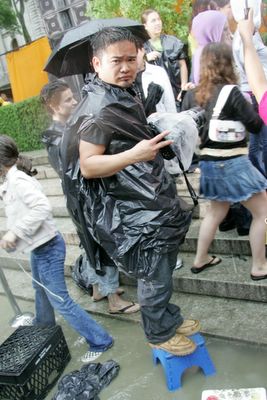 Nor rain, nor sleet...Keep shootin', we feel for you man!
Photo by D-Fens

This post comes to us from D-Fens...Keep em' Commin'!
Gavin DeGraw
Good Morning America Summer Concert Series
Bryant Park
7am
Think more 'A Clockwork Orange' than Gene Kelly.
Is it worth getting up at 6 in the morning to shoot Gavin DeGraw (who is not as one would expect a Country singer)? Probably not.
Is it worth standing in the pouring rain with ten grand worth of camera equipment? Definitely not!
Still, about ten of us, dressed in plastic trash bags to stay dry, were stupid enough to do just that. To make matters worse there wasn't even a photo. Gavin sat at his piano for the entire set with the microphone directly in front of his face.
On the bright side, there was a group of wet braless dancing girls that formed their own mini Woodstock. Plus, Listerine handed out free mouthwash.