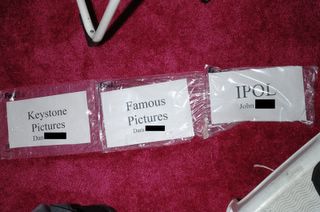 How many photogs can you fit on a sheet of 6"X8" piece of paper?
Entertainment Weekly Must List Party
PR- Dan Klores Communication
June 16, 2005
This report comes to us from ZePhotog
:
Where do I begin ?
Well let's re-write the EW Must List :
1) Fire Dan Klores Communication, they're incompetent and do not
deserve to work
2) When you book celebrities, make sure they are coming
3) Stop promoting nobodies like they are of any importance, if no other magazines are running them, there must be a good reason !!!
Now, this being said, let's see...
Here's how the spots were marked, that's the same for both TV &
photogs, 2 full rows deep :